Discover the Essence of VIP Services
In the bustling heart of the Dallas Metro Area, VIP Services has emerged as a paragon of excellence, craftsmanship, and client dedication in the general contracting realm. Since our inception, we've been driven by a single, unwavering mission: to deliver unparalleled service quality while ensuring an exceptional journey for our clients.
Hailing from the vibrant communities of Wylie, Sachse, Murphy, Allen, McKinney, and Rockwall, our roots run deep. Our connection to these locales is more than geographical; it's personal. We're not just builders; we're neighbors, friends, and partners. Every project we undertake echoes our commitment to the community, reflecting the unique charm and elegance of the Dallas Metro Area.
At the core of VIP Services lies a trifecta of values:
Transparency: We believe in open, honest communication. With VIP Services, you're never in the dark. From budgets to project timelines, we ensure you're involved in every step.

Excellence: Our dedication to craftsmanship is unwavering. Every beam, every brushstroke, every tile is a testament to our commitment to quality.

Client-Centricity: Your dream is our blueprint. We strive to not only meet but exceed your expectations, ensuring the end product is a true reflection of your vision.
Led by a team of seasoned professionals, our extensive portfolio boasts a wide array of projects, from cozy home remodels to expansive commercial renovations. Our secret? A symbiotic blend of cutting-edge technology, age-old techniques, and an insatiable drive to innovate.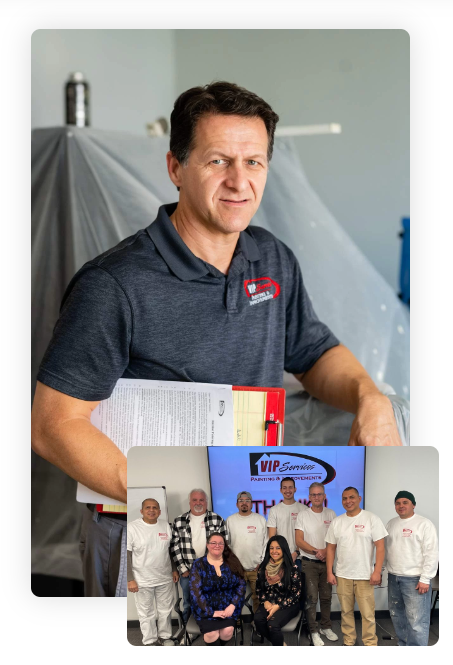 Knowing What To Expect Is Important
At VIP Services, client experience is OUR focus. While there are similar companies in the area with the same services, we focus on client experience to ensure there is no lack of planning or communication. Here is how we ensure that:
Menu-Priced Estimates (no guessing about what's included)
Trained Employees (follow OUR VIP Processes)
Daily Clean-Up Process, ALL Crews Follow (No Messy Contractors)
100+Google Reviews 4.9/5 stars, A+ w/ BBB (Proven Results)
3 Yr. Warranty + 1 Yr. Touch-Up Guarantee
Constant Communication w/ Dedicated Project Manager (Low-Stress Regular Updates)
In-House Designers, Complimentary w/ Most Projects (Professional Help making decisions)
Dedicated Project Planner to prevent timely delays (Sees you weekly, Knows YOUR Project)
As we look to the future, our vision remains clear: to further solidify our standing as the go-to general contractor in the Dallas Metro Area while always keeping sight of our core values and community roots.
Dive into a partnership with VIP Services and experience the gold standard of general contracting.